People in all stages of life gravitate towards co-living, from students to fulltime workers, from small business owners to retirees. While not everyone is familiar with the concept, the practicality of one all-inclusive weekly rent payment soon wins them over. As does the privacy and security of self-contained living.
A prime example is English couple Sue, 60 and Eamonn, 54. They own their own home in the UK but were lured to Australia after family members migrated here. Since moving to the northern suburbs of the Gold Coast, they've been living in one of three self-contained micro-apartments contained within a former duplex. It's their first experience of a co-living conversion, or HMO – 'house in multiple occupation'.
"We're here on a student visa. It was the only way we could stay near our family who are residents on the Gold Coast," Sue says. Both she and Eamonn are limited to working 20 hours a week according to the terms of their visas, which meant they needed to find lodgings that matched a fairly tight budget.
After signing the lease on their studio apartment, they're now paying $315 per week, with all bills included – electricity, water, internet and cleaning of shared spaces within the house.
SCROLL DOWN and check out some examples of typical co-living micro-apartments.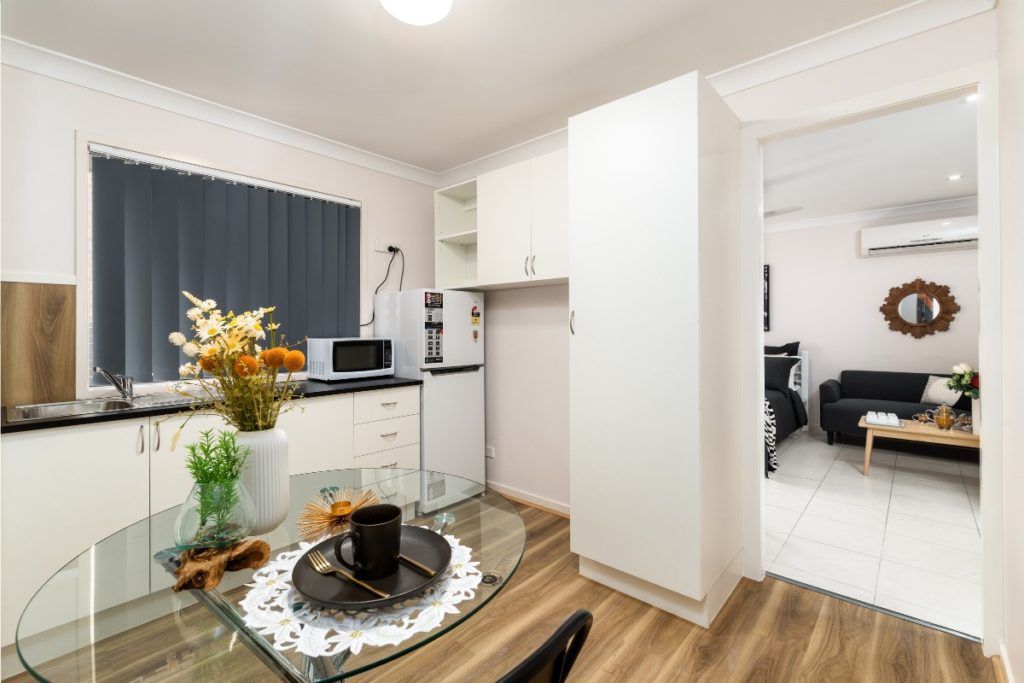 Finding HMO by accident
Like many residents of co-living apartments, Sue and Eamonn weren't specifically looking for co-living accommodation; they found it by chance when they responded to an advertisement.
As did 23-year-old Michelle who discovered her apartment listed online and assumed the address would yield a block of flats. She was surprised to arrive at what appeared to be a regular two-storey house. It turned out the house had been split up internally into micro-apartments.
"When the agent explained the setup to me, I thought, this sounds kind of clever – and it's worked out really well for me," Michelle says.
She was looking for somewhere that would give her the space and independence she craved after finishing up her university studies. She was also about to start a career in aged care and the apartment happened to be conveniently close to her new workplace.
COVID and skyrocketing rents
In Michelle's case it was definitely a challenge, moving out of home, with no rental history, in the middle of a rental crisis. Across the Gold Coast, the rental market has boomed. The northern corridor suburbs of Coomera, Ormeau, Pimpama and Upper Coomera have faced huge shortages of rental properties, caused by high levels of interstate migration
Michelle could have gone into share accommodation but she wasn't keen. "The two friends I would have chosen to share with had moved to Brisbane for work, and I'm not a 'find-a-room-mate-online' kind of person. So thought, I will just stick to myself," she says.
At $340 per week, Michelle is happy with the value for money she gets from her one-bedroom apartment. It's one of four apartments in the house, with a full kitchen including a gas stove and a dishwasher. It's on the ground floor, which gives her direct access to the backyard. And it's fully furnished like most co-living accommodation.
"It's a good solution to the affordability crisis," Michelle says. "You have to pay more to live alone, and at the end of the day, I pay more than people who share a house. But what I get for it is so much more. I feel like I've come home, not like it's a rental."
Find out why co-living micro-apartments are a great strategy for beginner investors, HERE.
A solution for older people as well
Jeff is also a convert to HMO. At 75, he's retired from a career as a mechanic, and now lives in a studio apartment, paying $330 per week in rent. He had been living on his own in a rented townhouse when the owner decided to sell. He found himself competing with people of all ages to find a rental property during COVID, and after being shown some real "hovels" by agents, he was getting disillusioned.
Luckily he'd approached one sympathetic real estate agent who told him about a co-living option. According to Jeff, "At the viewing, I realised it was no run-of-the-mill unit. It was well presented. I could see that from when I first walked in. I said to myself, this'll do me."
Now he says he lives in a better area, on a quiet street closer to public transport. And he
actually manages to save money. "My new apartment is more suitable for me than the other place, I feel much happier than I was before." Jeff says. "Someone comes and cleans and mops up the common areas; someone mows the lawn. We have a large, common kitchen if we're entertaining guests."
There are three men and another woman living alongside Jeff in the house. They share a common laundry and Jeff says everyone respects their fellow residents.
Wondering what it's like to own a co-living investment property? Check out our recent investor success stories, HERE.
Comfort, security and nice rental agents
Feeling secure is paramount for Michelle. "There's something comforting about living in a neighbourhood where there are a lot of family homes, and the fact that this looks like other houses in the area. So it's not obvious to anyone else that I'm here alone. I feel quite secure, I sit out in the backyard all the time."
Jeff adds that the keyless entry into the building and the security on his own apartment door make him feel safe.
"Living here won't suit everybody, some people don't like living in a small unit," Jeff says. "When I came to look at the place, there was another guy about my age looking as well, and  he gave me the impression that he thought it was too small. It won't tick everyone's box. But to me, this is great.
Michelle reports that all her co-residents are considerate and conscious of not making too much noise. But she believes her rental agent would take care of it if someone was noisy.
Sue and Eammon are similarly impressed with their agents. As Sue says, "We haven't had many issues, but on the odd occasion they have been most helpful and quick to respond."
Everyone has their own reasons for wanting to live alone, whether it's temporary or long term, whether they're leaving the nest or downsizing. Co-living can be a great solution for all kinds of people, at the same time providing a positive cash flow investment for the owners of the properties.
LEARN HOW to invest in co-living properties with my INVIDA team HERE.